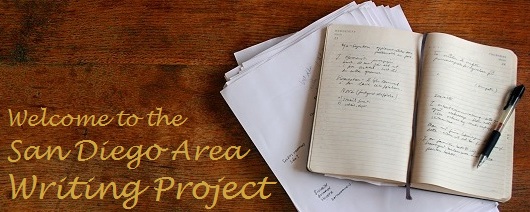 The San Diego Area Writing Project (SDAWP) at UC San Diego is dedicated to the improvement of student learning through the effective teaching of writing. The SDAWP believes that writing is critical to learning and a vital tool for communication and should occur regularly in all classes and across the curriculum.
The SDAWP recognizes that writing is a catalyst for the broad expression of ideas and opinions. We consider written expression by participants in our programs to be an opportunity for further dialogue and discussion.
Program Highlights
Invitational Summer Institute (SI) 2017
Applications for the SI 2017 are now available!
The Invitational Summer Institute (SI) is a leadership institute for the K-16 community of teachers and instructors interested in deepening their understanding of the teaching of writing.

Application deadline: January 13, 2017. For more information about the application process and to submit your application, click here.
LETTERS TO THE NEXT PRESIDENT 2.0
America's Youth Speak On Issues That Matter Most to Them in 2016

TWITTER
Follow @2NEXTPREZ
And use the hashtag #2NEXTPREZ

Letters to the Next President 2.0 (L2P 2.0) is an initiative that empowers young people (13-18) as they research, write, and make media to voice their opinions and ideas on  issues that matter to them in the coming election. It is a project built by teachers and for teachers and students that engages a range of partners interested in supporting youth civic participation. We invite all youth and their teachers and mentors to participate.

This is an opportunity for young people, most of whom are not old enough to vote, to share their views and their voice with a broad audience with the future president in mind. This isn't about partisan politics or a specific person running for president but about issues that matter to our young people.

There are also resources that can be used in the elementary classroom for students under the age of 13.
http://resources.letters2president.org/resource/its-elementary-writing-letters-to-the-next-president-in-the-primary-grades/

Letters to the Next President 2.0 would be a great writing event to host as part of the National Day on Writing

SDAWP Voices
A place for conversations about writing, teaching and leadership

Vist our blog and contribute to the conversation. Join the 113 Mentor Texts Challenge, share what your students are writing about, glean new information about digital media and tech in the classroom, or join the conversation about the CA Common Core State Standards.
The SDAWP is one of the California Subject Matter Projects, a professional development community for teachers.