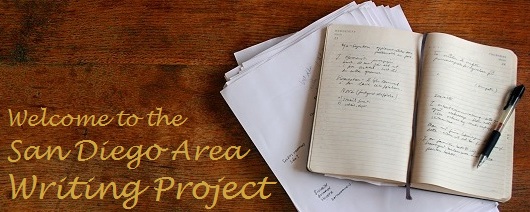 The San Diego Area Writing Project (SDAWP) at UC San Diego is dedicated to the improvement of student learning through the effective teaching of writing. The SDAWP believes that writing is critical to learning and a vital tool for communication and should occur regularly in all classes and across the curriculum.
The SDAWP recognizes that writing is a catalyst for the broad expression of ideas and opinions. We consider written expression by participants in our programs to be an opportunity for further dialogue and discussion.
Program Highlights
10th Annual Fall Conference for K-16 Educators
'Fall Into Writing' • Register Now!
A learning opportunity for educators and administrators who support student writers in all content areas. Join SDAWP Fellows in a discussion of writing instruction and State Standards and share ideas in a community of writers.

To read more and register click here.

SDAWP Voices
A place for conversations about writing, teaching and leadership

Vist our blog and contribute to the conversation. Join the 113 Mentor Texts Challenge, share what your students are writing about, glean new information about digital media and tech in the classroom, or join the conversation about the CA Common Core State Standards.
The SDAWP is one of the California Subject Matter Projects, a professional development community for teachers.