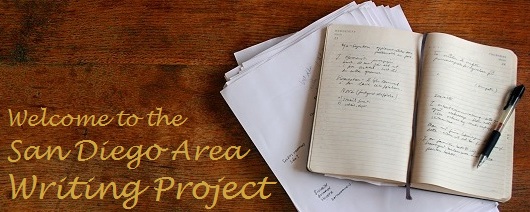 The San Diego Area Writing Project (SDAWP) at UC San Diego is dedicated to the improvement of student learning through the effective teaching of writing. The SDAWP believes that writing is critical to learning and a vital tool for communication and should occur regularly in all classes and across the curriculum.
The SDAWP recognizes that writing is a catalyst for the broad expression of ideas and opinions. We consider written expression by participants in our programs to be an opportunity for further dialogue and discussion.
Program Highlights
Summer 2016 Young Writers' Camp Programs
Learning Opportunities for Young Writers

Young Writers in grades 3 to college freshman have many opportuntities tao write this summer!  Read more about our summer 2016 offerings and register now!
Summer 2016 Open Institute Programs
Registration begins April 1
Learning Opportunities for K-8 Teachers and Adminstrators

Join SDAWP Teacher Consultants and colleagues this summer and participate in a 3-day open institute designed to enhance your teaching repetoire and deepen your knowledge of writing—across the curriculum.  We offer programs this summer for new and experiened classroom and resource teachers, as well as site-based administrators.  Read more about our summer 2016 offerings and register now!
Write Now! MOOC
(Massive Open Online Collaboration)
Write Now! MOOC is the place to connect with others interested in ongoing learning about the teaching of writing. Connecting with a community of passionate and caring educators, colleagues near and at a distance, is also the perfect way to push at the boundaries of your own writing as we create new spaces for ongoing reflection. The Write Now! MOOC community is open to anyone who would like to participate in activities through "make cycles" that will encourage participants to interact with each other, explore excerpts from professional texts, and experiment with digital tools as we discuss and implement ideas for improving the teaching of writing while expanding our own ideas about writing in our current contexts. Join the Write Now! MOOC

SDAWP Voices
A place for conversations about writing, teaching and leadership

Vist our blog and contribute to the conversation. Join the 113 Mentor Texts Challenge, share what your students are writing about, glean new information about digital media and tech in the classroom, or join the conversation about the CA Common Core State Standards.
The SDAWP is one of the California Subject Matter Projects, a professional development community for teachers.