Donate to SDAWP 
Thank you for considering making a gift to the San Diego Area Writing Project!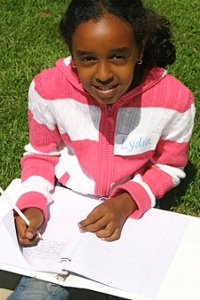 Donations for the Young Writers' Camp Scholarship & Transportation Fund
Business and community members are encouraged to support students who wish to attend our YWC programs by donating to the YWC Scholarship and Transportation Fund through the UC San Diego Foundation. Your donations support this valuable and vital educational outreach program for young writers throughout San Diego County. Please contact us for more information.
UC San Diego Foundation
The UC San Diego Foundation is a California non-profit, public benefit corporation organized for the purpose of encouraging voluntary private gifts, trusts and bequests for the benefit of the UC San Diego campus.
For more information on how to donate to the SDAWP, please contact the UC San Diego Foundation directly:
Phone: (858) 534-6385
Fax: (858) 534-8160
Mailing Address
UC San Diego Foundation 
9500 Gilman Drive (MC: 0940)
La Jolla, CA 92093-0940
Physical Address (FedEx/UPS)
UC San Diego Foundation 
10300 N. Torrey Pines Road, 3rd Floor
La Jolla, CA 92037