Programs at SDAWP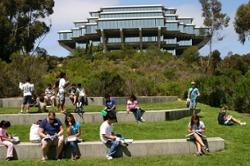 The SDAWP coordinates and hosts a variety of programs for students and teachers in the San Diego area. Click on the program name to learn more and find out how you can participate.
Programs for Students
Programs for Teachers
Funding Opportunities
In addition, individual participation in SDAWP programs has been financially supported in the past by a variety of district and school initatives. The following is a list of potential sources of funding for those who may be interested in participating in the future:
Chapter I
AB 466 / SB 472
Dropout Prevention
Economic Impact Aid (EIA)
EICA Chapter 1
GATE
General Professional Development
Quality Education Improvement Act (QEIA)
Incentive Grants
Migrant Education
No Child Left Behind Act (SDAWP is an authorized state and federal educational service provider) Includes Title I, Title II, Title III, Title VII.
Program Improvement (PI)
School Improvement (SI)
Special Education
For more information, please contact Carol Schrammel.