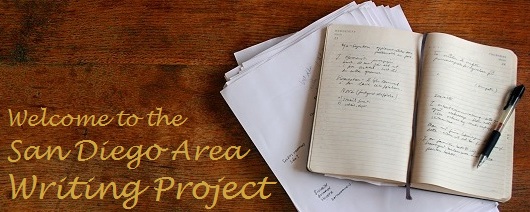 The San Diego Area Writing Project (SDAWP) at UC San Diego is dedicated to the improvement of student learning through the effective teaching of writing. The SDAWP believes that writing is critical to learning and a vital tool for communication and should occur regularly in all classes and across the curriculum.
The SDAWP recognizes that writing is a catalyst for the broad expression of ideas and opinions. We consider written expression by participants in our programs to be an opportunity for further dialogue and discussion.
Program Highlights
Professional Development for Educators • Summer 2019 • Grades K-16
Open Institute Programs and Dates
UC San Diego
Join us this summer for high-quality teacher professional development during a 3-day Open Institute program.
Young Writers Camp Programs • Summer 2019 • Grades 3-16
Young Writers Camp (YWC) Programs and Dates
June 17 - August 9 • UC San Diego and Satellite Locations
See what YWC programs are being offered this summer. We have something for the writer in your family!
SDAWP Writes
An Open Digital Space for SDAWP Fellows to Virtually Connect
The SDAWP offers SDAWP Fellows the opportunity to stay connected after the Summer Institute to a dynamic community of writer-educators and to be reminded and urged to write and share on a regular basis. Find out more and join our Google+ community at SDAWP Writes.
Professional Development for K-16 Educators
Customized School and District Professional Development
The SDAWP offers a variety of year-round professional development opportunites for K-16 teachers. Based on the specific needs of participating teachers, experienced SDAWP Teacher Consultants present practical strategies and approaches in workshop format, designed to improve student writing.

To read more click here

SDAWP Voices
A place for conversations about writing, teaching and leadership

Vist our blog and contribute to the conversation. Join the 113 Mentor Texts Challenge, share what your students are writing about, glean new information about digital media and tech in the classroom, or join the conversation about the CA Common Core State Standards.
The SDAWP is one of the California Subject Matter Projects, a professional development community for teachers.